03.-05.08.18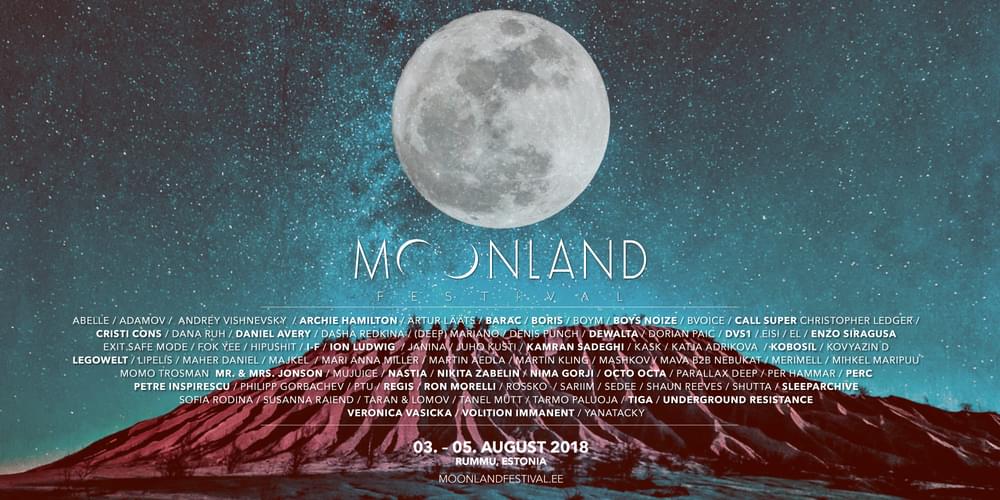 Moonland Festival

03.-05.08.18 in Rummu, Rummu quarry
Tickets for Moonland Festival
Rummu
---
Information
Early August will see the first edition of Estonia's Moonland Festival, featuring of Barac, Dewalta, DVS1, and many more leading names.
The venue is the historical Rummu quarry and former prison, a Unesco World Heritage Site, not far from Estonia's capital Tallin. The site is said to be "surrounded by lush nature," and is known for hosting Into The Valley 2017.
The aim, organizers say, is to "reshape the landscape through an interactive audio-visual experience," soundtracked the following names, with more set to be announced.
This year's debut edition takes place from August 3 to 5 in the historical prison walls of Rummu.
Line Up:
Abelle (RU)
Adamov (RU)
Andrey Vishnevsky (EE)
Archie Hamilton (UK)
Artur Lääts (EE)
Barac (RO)
Boris (DE)
Boym (RU)
Boys Noize (DE)
Bvoice (RU)
Call Super (UK)
Charlise n Chaplin (BE)
Christopher Ledger (IT)
Cristi Cons (RO)
Dana Ruh (DE)
Daniel Avery (UK)
Dasha Redkina (UE)
Denis Punch (EE)
DeWalta (DE)
Dorian Paic (DE)
DVS1 (US)
Eisi (EE)
El (RU)
Enzo Siragusa (UK)
Exit Safe Mode (EE)
Fok Yee (EE)
Hipushit (RU)
I-F (NL)
Ion Ludwig LIVE (DE)
Janina (DE)
Juho Kusti (FI)
Kamran Sadeghi LIVE (US)
KASK (EE)
Katja Adrikova (EE)
Kobosil (DE)
Koray T (TU)
Kovyazin D LIVE (RU)
Legowelt LIVE (NL)
Lipelis (RU)
Maher Daniel (CA)
Majkel (SE)
Mari Anna Miller (EE)
Mariano (AR)
Martin Aedla (EE)
Martin Kling (SE)
Mashkov (RU)
Mava b2b Nebukat (EE)
Merimell (EE)
Mihkel Maripuu b2b Tarmo Paluoja (EE)
Mike Shannon (CA)
Momo Trosman (AR)
Mr. & Mrs. Jonson LIVE (DE)
Mujuice LIVE (RU)
Nastia (UA)
Nikita Zabelin (RU)
Nima Gorji (DK)
Octo Octa (US)
Parallax Deep (SE)
Per Hammar (SE)
Perc (UK)
Petre Inspirescu (RO)
Philipp Gorbachev LIVE (RU)
PTU LIVE (RU)
Regis (UK)
Ron Morelli (FR)
Rossko (UK)
Sariim (RU)
Sedee (DE)
Shaun Reeves (US)
Shutta (RU)
Sleeparchive LIVE (DE)
Sofia Rodina (RU)
Susanna Raiend (EE)
Tanel Mütt (EE)
Taran & Lomov (LV)
Tiga (CA)
UNDERGROUND RESISTANCE LIVE (US)
Veronica Vasicka (US)
Volition Immanent LIVE (NL)
Yanatacky (EE)